Rudra Environmental Solution (India) Ltd started by young Entrepreneurs who are passionate about the nature and environment. Even though the company came into existence in 2009 as a Public Limited entity, the research and trails on recycling of plastic waste have been going on for more than two years.
We as citizens felt it was our civic duty to do something about the growing problem of plastic waste and for that reason only we started working on a process of disintegration of plastic. It is our duty to leave the world a better place for future generation and for this reason, we have started working on various environmental related projects. Currently, waste water treatment & non-conventional energy sources are the areas where R & D work is in progress.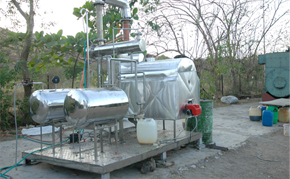 Plastic being an inevitable part of our life which plays important role in domestic & industrial utility. It has wide range of applications due to its unique properties. Although plastic got its various advantages it has got some disadvantages too. Basically plastic is a Non Degradable/non perishable. Annually, between 15 and 30 billion plastic bags are discarded directly into the world's waters and environments.
They break into smaller pieces and more toxic polymers that spread across soils, waters, and bottoms and find their way into aquatic food chains.
Manufacturing of plastic products consumers significant Quantities of resources. (4% of worlds annual oil Production as feed stock + 3% to 4% in manufacturing). Littered plastics spoils beauty of the city, choke drains and make important public places filthy.Risk on human health and environment due to use of toxic chemicals in plastic products.Animals do feed on it from the garbage bins, leading to illness and possible death of the animals.